With each passing year, technology advances to the next level and the strong rivalry between aircon brands keeps competition alive resulting in new and improved aircon models for consumers. Air-conditioners can be considered long-term investments as they have a lifespan of 8 years, or more, if well taken care of. If this is your first time buying a new aircon, we suggest reading our Aircon Installation Guide first to understand the various factors to consider while making a purchase decision. The factors involved would include things such as number of rooms, size of rooms, etc. Therefore, it is crucial to understand more about your own cooling requirements before selecting a suitable aircon model that suits your needs. In this article, we will look at the top brands and aircon models available for purchase in 2022.
Mitsubishi Electric Air-Conditioner Models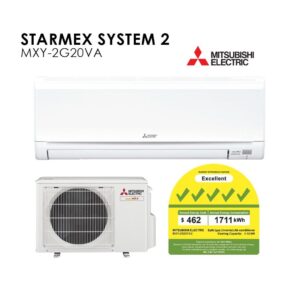 The Mitsubishi Electric Starmex Inverter Aircons are hugely popular in Japan, and their brand presence continues to grow globally. Their air-conditioners are very energy-efficient with 5 NEA ticks awarded to all the multiple-split system models:
Single-Split System (1 outdoor to 1 Indoor aircon unit): Starmex MSY GN Series Wall Mounted Type (3-5 Ticks)
Multi-Split System (1 outdoor to 2-5 indoor aircon unit): Starmex MSXY FN Series Wall Mounted Type (5 Ticks)
Here are some of the reasons why we would recommend Mitsubishi Electric Starmex Inverter Aircons:
–          Low noise level of 19dB (softer than the sounds of leaves rustling)
–          Strong airflow to cover spacious living rooms or kitchens, air reach distance of up to 12m.
     EasyClean systems allow users to wipe down and clean easily, making the process simple and convenient for maintenance to ensure top operating efficiency all day.
–          PM2.5 Microparticle filter to provide clean and fresh air constantly.
There's a long list of other reasons as well and you can read the full details in the Mitsubishi Electric Aircon catalogue book.
Daikin iSmile Series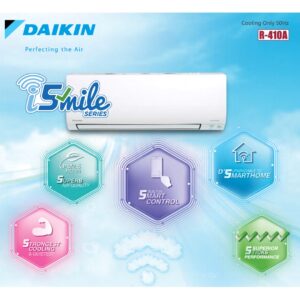 The Daikin brand is another hugely popular brand in Japan and it has been almost a century (98 years in 2022 to be exact) since Daikin was founded. In 2021, Daikin recorded net worldwide sales of US$23bn for that financial year which goes to show that its popularity and brand are that of a global scale, earning Daikin the title of the household aircon brand globally. Known for their energy-efficient and eco-friendly air-conditioners, Daikin's latest series of aircon comes under the iSmile series, featuring Superb Air Quality (PM 2.5 Filter) with built-in Smart Control where you can control your aircon using a smart phone application for your convenience.
Here's the latest catalogue for Daikin in 2022:
If you want to help cut down your carbon footprint, you can take a look at Daikin's iSmileEco series that has zero ozone depletion and has higher energy efficiency with NEA awarding 5 ticks on the iSmileEco series of air-conditioners.

Midea All Easy Pro Series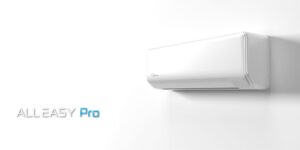 Midea has been around since 1968 producing a myriad of home appliances that includes air-conditioners. Today, they are ranked as a Forbes Global Fortune 500 company with operations in over 200 countries. The latest Midea air-conditioner is the Midea All Easy Pro Series and the key feature of this series is that it makes the air-conditioner very easy to install and clean. After decades of research, Midea has learnt that to maintain the most optimal cooling performance, the system needs to be cleaned and maintained regularly. Therefore, by focusing on making it easy and convenient to clean the aircon system, maintenance would be less of a hassle for consumers and contractors. Your Midea aircon will be easy to maintain and run efficiently. Midea boasts that the time taken for maintenance works is times faster for an All Easy Pro Maintenance compared to other regular aircon unit.
You can read up more details and technical specifications in the Midea All Easy Pro Series Catalogue.
One thing to note is that the All Easy Pro Series only supports up to System 4 – meaning one outdoor aircon unit can connect up to 4 indoor aircon units (or 4 rooms). The All Easy Pro Series have 4 ticks, while if you are looking for greater energy efficiency, you can opt for the All Easy Pro Premium which has 5 ticks.

LG Wall-Mounted ArtCool Plus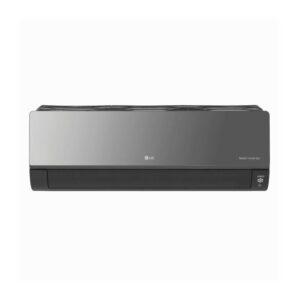 LG has always been an innovator, integrating home appliances with state of the art technology. Their latest air-conditioning system, the ArtCool Plus allows easy control, monitoring and diagnosis of the room's air quality just at the tap of your smartphone. One of the highly raved features of the ArtCool Plus is their Plasmaster Ionizer. The powerful plasma ionizer utilizes over 3 million ions to sanitize the air, removing harmful particles as well as getting rid of bad odors.

Another well-loved feature is its auto cleaning function where regular airflow helps to clean the filters. This sophisticated technology claims to prevent the growth of bacteria and mold on the heat exchanger, enabling you to stay worry-free with clean and fresh air.
You can read more about the features and technical specifications in the LG Aircon Catalogue.
Panasonic Deluxe Inverter R410A

Panasonic has been around for slightly more than a decade. They have been focusing on developing innovative electronics technology, including consumer electronics and air-conditioning systems. The latest Panasonic model, the Deluxe Inverter features a range of technologically advanced benefits to consumers, from fast cooling to voice control, etc. Here are some of our favorite features:
–          Panasonic Comfort Cloud: The smartphone mobile application that enables monitoring and controlling of the air-conditioning systems at the tap of a screen. What's more interesting is that you can link this application to your Google Home application so you can use voice command to control your air-conditioners.
–          AEROWINGS Feature: This Panasonic feature enables faster and farther airflow. AEROWINGS twin flaps can be directed to specific areas for concentrated airflow. It can also be used as a 'shower' cooling method, where airflow is directed horizontally from the aircon, across the room to the walls where the air will fall gently like a cool shower.
–          PM2.5 Remover nanoe-G: Effective in removing 99% of airborne particles, including dust particles as small as PM2.5, the nanoe-G technological features negative ions to capture tiny dust particles and trap them in the filter while the aircon provides fresh and clean airflow to your room.
Those are just a few of the best features on the latest Panasonic aircon model. For more details, you can visit Panasonic Deluxe Inverter Page.
How to buy an air-conditioner for your home?