Thinking of replacing or buying a new aircon for your home? Installing a new aircon may sound like a lot of work, but if you understand the various steps involved, then you will realize it is not that difficult after all.   If you are new to aircon installation, this is the right page to be. Here, we will discuss and completely guide you through everything related to aircon installation in Singapore with the following content:
–          Factors to consider before getting an aircon installation in Singapore
–          Different types of aircon installation in Singapore
–          Different parts involved in an aircon installation
–          Why choose Infinity Air for your next aircon Installation in Singapore
–          Typical aircon installation price in Singapore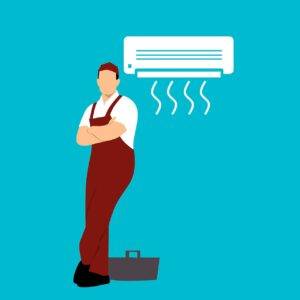 Factors to consider before getting an aircon installation in Singapore
Number of Rooms: We first need to identify how many rooms you would like to cool as different aircon installation setups are required depending on the number of rooms. For example, a single room would likely use a single split wall-mounted aircon system while multiple rooms would use a multiple split system. Your type of system would depend on the number of rooms for your aircon installation. 

Size of Rooms:  An aircon's cooling ability can be measured in BTU – British Thermal Units, which refers to heat that the aircon can remove per hour. The higher the number, the greater the aircon's ability to cool the room. As a result, the size of your room determines the type of aircon needed. You can simply use our BTU calculator to calculate how much BTU is required for your aircon installation.
Energy Efficiency Labels: Every aircon in Singapore comes with an energy label, measured by the number of ticks. Basically, the higher the number of ticks, the more energy efficient your aircon will be. In general, the higher number of ticks might also relate to a higher aircon installation price tag for the unit. Therefore, you will have to estimate your usage and decide what type of aircon installation is best suited for you in the long run. 
Aircon Installation Price vs Value: A good initial installation will save you a lot of money in the long run. Given that air-conditioning is an investment for at least 8 – 12 years, you will want to invest in the right team to install and oversee your system. Make sure your aircon installation and maintenance agent is certified by regulation to avoid and minimize the chances of any complications in the long-term.
Bonus aircon features you might want: With modern technology, there is potentially a whole lot more functions available other than the normal on/off and temperature control buttons on the remote control. Different air-conditioning systems may have different or unique features, and it is entirely up to you to select your desired features and specifications to cater to your aircon installation needs. Some examples of helpful features or add-ons to look out are Wi-Fi remote control, dirty filter indicators, easy access to filters, energy saver settings, etc.
Different types of aircon installation in Singapore
There are 3 common main types of indoor units, namely wall-mounted unit, ceiling cassette/ceiling mounted unit and ducted units.
Wall-mounted unit: As the most used indoor units in Singapore households, this aircon installation system usually requires space on a wall to be installed and is limited in viable locations to be installed as a gradient for the water drainage is essential.

Ceiling cassette units: Ceiling cassette units are more common in spaces with a larger area such as offices or landed properties as a higher ceiling height is required for optimal cooling. One key advantage of having such an aircon installation is that, as it is installed in the ceiling, it has a better positioning to cool larger spaces that are not heavily partitioned with walls.
Ducted aircon units: A Ducted aircon unit are mostly installed in commercial buildings or warehouses. This type of aircon installation can be modified to fit various sized rooms using various types of diffusers. This kind of aircon installation is usually complex to design.
Different parts involved in an aircon installation
If you have a reliable contractor for your aircon installation, you can probably skip this section. If you are curious, you can read on and find out the types of materials that will help prolong the lifespan of your aircon, reducing the risks of improper insulation or leaks that could lead to costly aircon repairs and unnecessary disruptions. It is always good to check with your aircon contractor on the types of materials they are using for the aircon installation. Here are the following materials used for aircon installation:
Piping insulation: The industry standard for insulation would be 3/8" and it can be upgraded to 1/2″ insulation for even more peace of mind for your aircon installation as it better helps to prevents condensation.
Copper pipes: With the minimum standard at 23SWG (standard wire gauge), many aircon contractors typically use 23SWG and it is upgradable to 22SWG for your aircon installation. The smaller the number, the thicker the copper pipe. This enables it to withstand higher gas pressure and hence, minimize or event prevent the risk of leakages.
PVC Drainage pipes: The industry standard size would be 13mm (diameter) for aircon installation, while it is upgradable to 16mm for a smoother water flow and reduce risk of drainage pipe chokes (which usually leads to aircon water leaks).
Cables/Wiring: The industry standard is 3 core 40 wires for aircon installation, and it is upgradable to 3 core 70 wires. Thicker wires can withstand a higher electrical ampere from the circuit board to both the indoor and outdoor units.
Choosing refurbished aircon for installation as an economical alternative
Used second-hand air-conditioners can be refurbished and utilize again as a cost-effective way of having an air-conditioning system. The benefits of choosing refurbished aircon are:

–          Quality aircons at affordable prices: Branded air-conditioners that are reputable for their performance, durability and features are known to be costly for a fresh new installation. By getting a second-hand aircon, you are effectively cutting up to half the cost at the expense of a few years of aircon lifespan.


–          Cost-effective for servicing in the long-term: Most of the refurbished aircons will be from popular brands such as Mitsubishi, Daikin, Panasonic and more. As a result of their popularity, the second-hand parts are also more readily available to replace when their time is up.


–          Environmentally friendly: By reusing useable parts that would have otherwise been disposed, you will be reducing the carbon footprint by reducing waste, and hence, contributing a part in saving the earth.


–          3 months warranty: You can have a peace of mind that there will be a 3-month warranty that comes with our refurbished aircon units, which covers mainly the aircon parts and labour. In the case where the defect is beyond repair economically, we will replace the air-conditioning unit with a similar one accordingly.
If you are sitting on the fence thinking if you should choose a refurbished aircon or not, you will want to read this article on refurbished aircons if they are worth it.
Why choose Infinity Air for your next aircon installation in Singapore?

Choosing the right aircon contractor with the relevant experience and technical knowledge on how the aircon equipment works is essential for a good aircon installation job. A good aircon installation considers ease of access for future maintenance work, proper aircon model for most efficient cooling depending on room size and of course, aesthetics. A bad aircon installation job can cause a multitude of headaches down the road. Choose a trusted aircon contractor who is ethical and reputable to provide for all your aircon installation needs. Furthermore, all our technicians are in-housed, and we will never sub out a job externally for any aircon installation. Our aircon technicians are well-trained and equipped with the skills to carry out any type of aircon installation from your home to your offices. We have almost 20 years of aircon installation experience and will even provide a 1 year warranty for your aircon installation works.

What is the typical aircon installation price in Singapore?
The typical aircon installation price in Singapore is determined by several factors, such as the type of material used as mentioned above, and the type of aircon you are getting, along with any other possible complications with the aircon installation site. For an estimation of a quotation for your aircon installation, you may contact us with your aircon brand and type and let us know if it will be a new aircon installation or a replacement. We will then be able to provide you an aircon installation price quote for your consideration.

Past Projects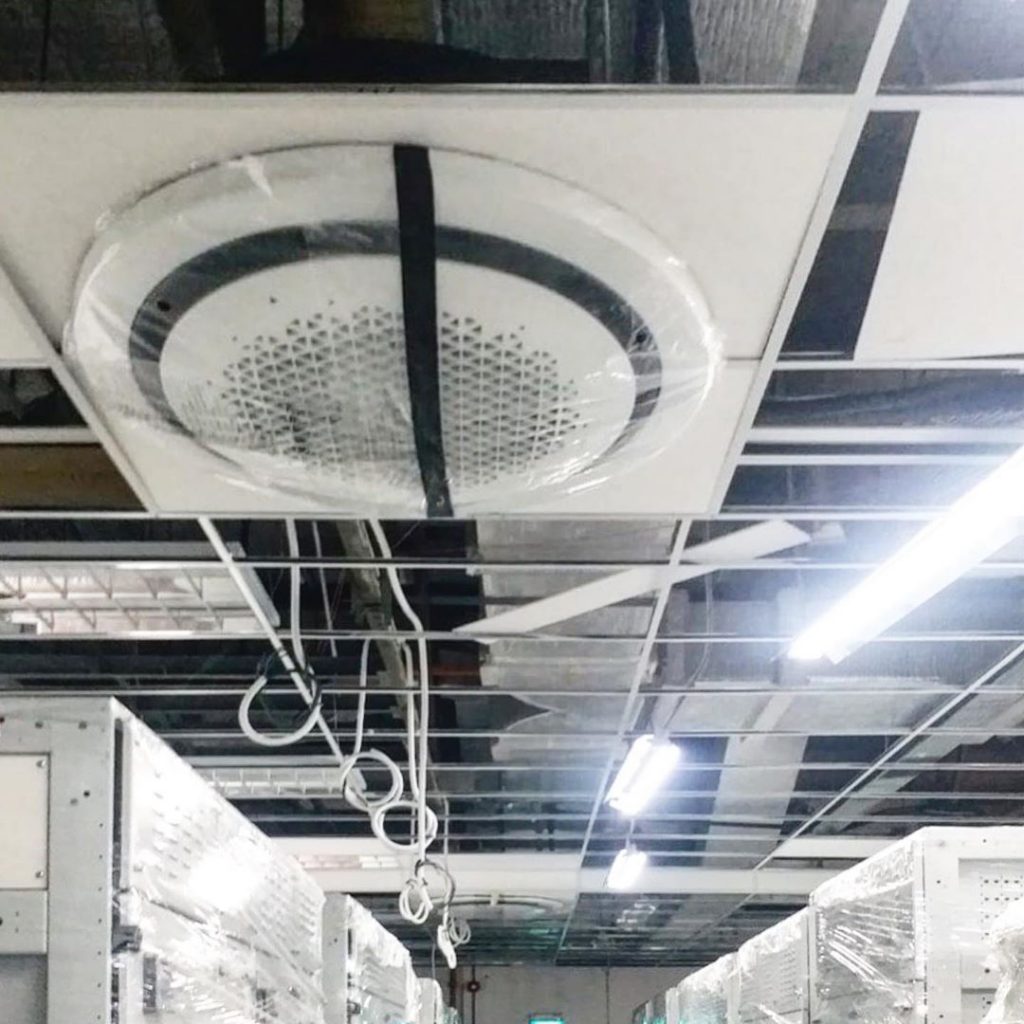 Fresh Installations @ Jurong Industrial

Just before the Chinese New Year festivities in 2020, our team managed to complete the set up of 6 Samsung ceiling cassettes and 3 wall mounted air conditioners at our industrial client's facility in Jurong. Things are looking fresh!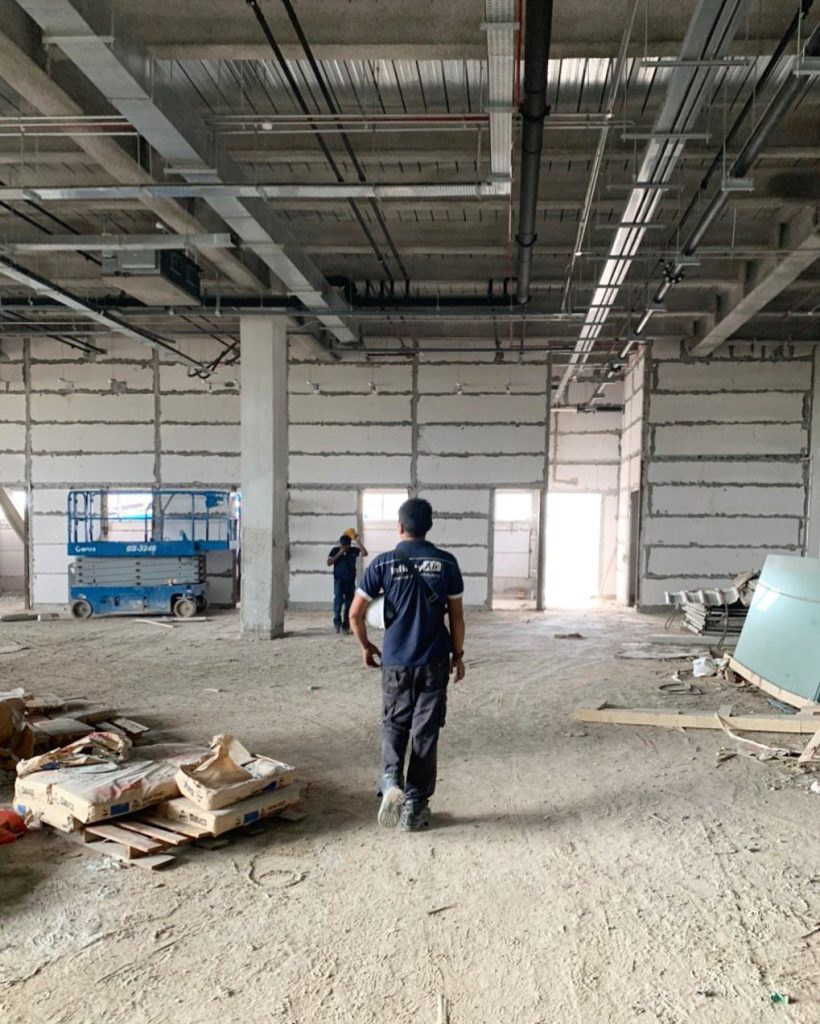 HVAC Installation @ Seletar


Our team on site at Seletar where we have installed 78 aircon units to furnish the whole 4 storey building. Aside from our regular residential projects, we often undertake larger industrial and commercial projects as well. We pride ourselves in being able to handle all sorts of HVAC related projects so you don't need to go through the trouble of liaising with an unnecessary number of contractors.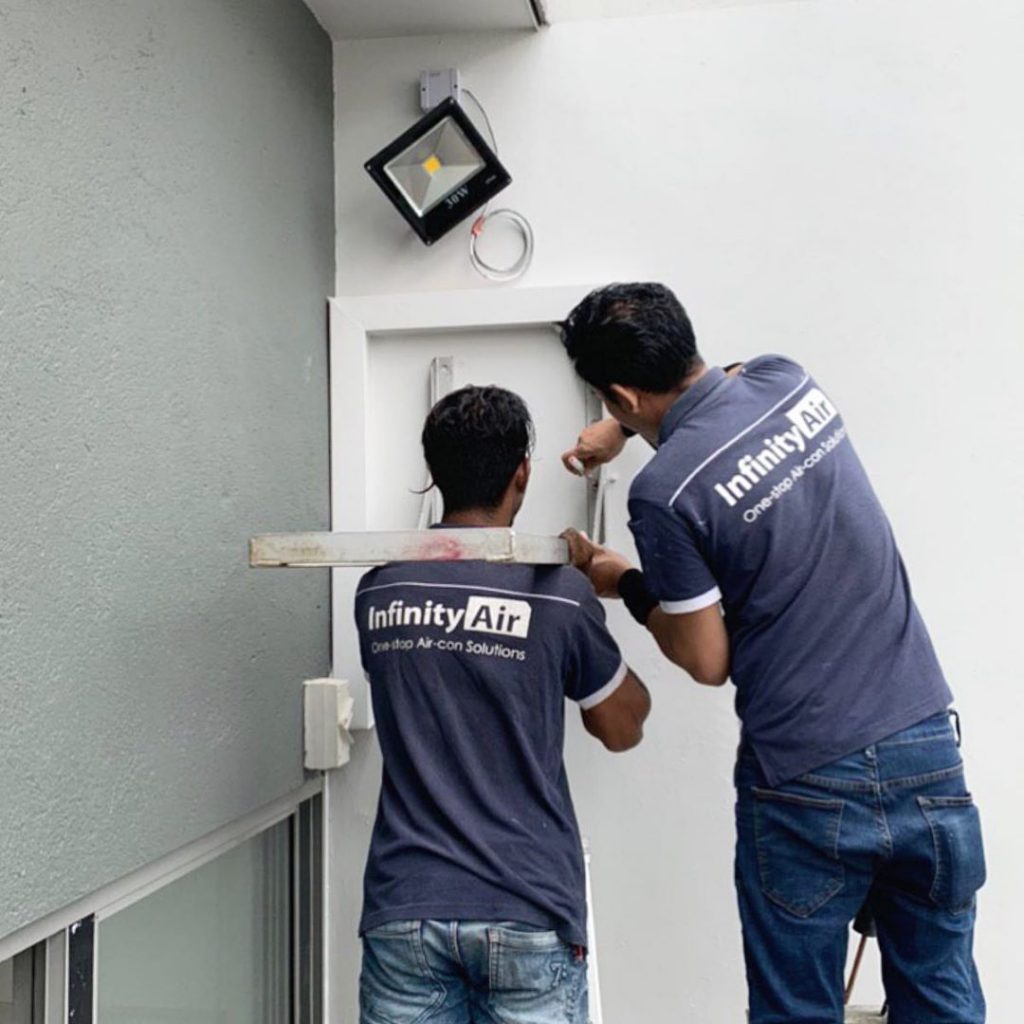 Residential Aircon Installation - 7 Aircon in a House


Installation of 7 aircon units in a single house

We were involved from the early stages of the house's completion. Coordinating with the interior designers so the placements of the aircon are not only effective but also aesthetic. If you need someone to help you with aircon installations at your new home and more, you know who to call!