Air–conditioning (also known as ac servicing) is widely popular here in Singapore thanks to the hot and humid weather all year round. With daily and continuous usage of an air-conditioner, the lifespan of the aircon may deteriorate faster and subsequently be less effective or even cease to function. Therefore, people choose ac servicing in Singapore to maintain the efficiency of their aircon systems and extend its lifespan. By scheduling a regular ac servicing for your aircon periodically can also help to identify early signs of defects, that could affect other parts of the aircon, and by resolving the early symptoms you can reduce your overall repair costs. Here at Infinity Air, our goal is to deliver quality & affordable aircon servicing in Singapore. Therefore, an overview of the benefits from ac servicing would be:
–          Maintain and improve energy efficiency
–          Lowers the overall cost of aircon repair
–          Longer operational lifespan
–          Improved air quality
–          Lower electrical bills
–          Reduces the risk of having a faulty aircon when you need it most
3 Main Types of Aircon Servicing in Singapore
Generally, there are 3 types of aircon servicing in Singapore, namely:
1.      General Servicing
2.      Steam Cleaning
3.      Chemical Wash/Overhaul
Each of these aircon servicing methods have a function and purpose. In laymen terms, you can think of aircon servicing as 3 different levels, where the next level consists of more comprehensive cleaning than the previous level. In this case, general aircon servicing would be the most basic form of aircon servicing, while chemical overhaul would be the most thorough form of aircon servicing. These 2 are the most common works carried out for home aircon servicing in Singapore.
Level 1: Aircon General Servicing
As the most basic form of aircon servicing and aircon maintenance in Singapore, this form of aircon servicing mainly performs general aircon cleaning of the various parts and basic checks and tests to identify if there are any faults or defects in the system. This includes checking of compressor pressure levels, cleaning of blower wheel and cooling coil, and more. You can visit our aircon servicing page to find out the full scope of general aircon servicing.
Level 2: Aircon Steam Cleaning
Aircon steam cleaning is an advanced technique that uses jets of high-pressured hot steam to expel dirt in clogged areas, steaming through hard-to-reach crevices, as well as sterilize surfaces. Given its environmentally friendly nature as only water is being used without any chemicals, many environmentalists are advocates for steam cleaning when it comes to servicing and cleaning of their aircon units.

As aircon steam cleaning uses hot steam, it evaporates quicker than water or chemicals, which results in a faster drying time. It also does not leave any chemicals or residue behind. Therefore, a quick and fuss-free way of cleaning your aircon efficiently. On top of that, aircon steam cleaning has also been proven to be effective in combating unpleasant odors from your aircon by eliminating 99.9% of bacteria that resides in the coil.

If you are still unsure of what is steam cleaning, you can also visit our aircon servicing steam cleaning page to watch a video of how steam cleaning is being conducted.
Level 3: Aircon Chemical Wash / Aircon Chemical Overhaul
Chemical overhaul is our current most comprehensive service for cleaning your aircon. As the name suggests, chemical overhaul offers your aircon the deepest cleanse, getting rid of the most stubborn stains, dirt and bacteria with the use of chemical agents. This is the best aircon servicing choice you can opt for a thorough cleanse of your aircon – good for aircons that have not been serviced in a long time.

How this works it that the chemical wash process involves a full strip down of the aircon unit. The unit will be dismantled to reveal the aluminum coils, all allowable components are then coated with a chemical solution that helps to dislodge dirt, grime, bacteria and molds from all nooks and crannies within the system that would otherwise be trapped. Since your aircon will be fully stripped down and re-assembled, getting a reputable aircon contractor would be highly recommended. This type of aircon servicing gives a complete cleanse that helps to optimize the cooling ability of your unit and help get rid of unwanted odours. We usually recommend this once a year as part of our routine home aircon servicing works.
The full scope of our aircon servicing chemical overhaul includes:
–          Dismantling of entire Fan Coil Unit (FCU) from the wall
–          Dismantling of electronic control and drainage device
–          Chemical overhaul of FCU and aircon parts
–          Servicing/ Vacuuming of drainage system
–          Charging of refrigerant (limited to 10 PSI per system)
–          Checking of controls and thermostats
–          Commissioning and test run of system
What will happen if you do not do any aircon servicing? 
Dust can start to accumulate in your aircon filters/coil which causes your aircon systems to work harder than usual. Gunk or mold might build up in your drainage systems which can restrict and obstruct water flow and cooling capacity. You may not experience the direct impact of these immediately, but allowing these issues to compound over a period of time will lead to further complications such as insufficient cooling, or aircon leaking, etc. On top of that, your energy bills will increase and the aircon will be circulating unhealthy air as the air that flows through the filters that are filled with dust, mold and possibly bacteria. This will especially affect those with asthma and eczema conditions if you choose to do away with aircon servicing.
When is aircon servicing required?
As it goes with the saying "prevention is better than cure", one of the main reasons for aircon servicing in Singapore is to clean your aircon systems to maintain its functional integrity and to detect early signs of malfunction that could potentially snowball into an issue that is costly to fix. The cheapest aircon service might not always be the most beneficial long-term.  While there are no strict rules to the frequency of aircon servicing, there are some guidelines to follow depending on your aircon usage and its surrounding environment.

The more hours your aircon runs per day, the more frequently you will need to have aircon servicing performed. For example, if you are running it for more than 8 hours a day, you will likely need to maintain and service it every 3-4 months to ensure an optimal aircon operation. Otherwise, if you are only cooling your room just a few hours each night, then a home aircon servicing work once or twice a year would suffice.

The surrounding environment is also a factor for consideration depending on where your aircon unit is located. If the condenser (outdoor aircon unit) is facing dusty areas such as construction sites or busy roads, chances are that you will need to clean and service it every 3 months. Likewise, for the internal unit, if your room is often dusty or if you use humidifiers/vaporizers that release fine particles such as essential oils into the air, servicing every 3-4 months would be recommended. Whereas if both units are in a generally clean environment, once or twice a year would be sufficient.

Therefore, with a consideration of both usage and the surrounding environment, you can decide how often aircon servicing is performed. As one of the top aircon servicing company in Singapore, many of our customers opt for 3 or 4 times of general aircon servicing per year as they use their aircon very often. They understand the importance of aircon cleaning and aircon maintenance that will have them better off in the long run.
Aircon Servicing: Chemical Overhaul to Solve Common Aircon Problems
Many common aircon problems can be resolved with aircon servicing, notably with chemical overhaul. Here is a list of signs that your aircon tells you a chemical overhaul could be needed:
–          Aircon not cold: Possibly due to ice accumulated in the condenser.
–          Aircon slow to cool the room: Potential accumulation of dirt in the system.
–          Aircon leaking or spraying water in certain cases: Due to a choked coil
–          Bad and smelly odor: Accumulation of bacteria in the fan coil unit.
–          Noisy aircon: Due to a clogged aircon system.
If you face any of the potential issues above, an aircon chemical overhaul may do the trick for you. Chemical overhaul is usually recommended for those of you who have not done any aircon maintenance work in a long time, or when general aircon servicing has no effect on the issue at hand. Choosing chemical overhaul is an option to bring you a peace of mind when it comes to your aircon systems as it is the most comprehensive and effective cleaning service available which helps to bring back the efficiency of your aircon unit.
Previous Aircon Servicing Projects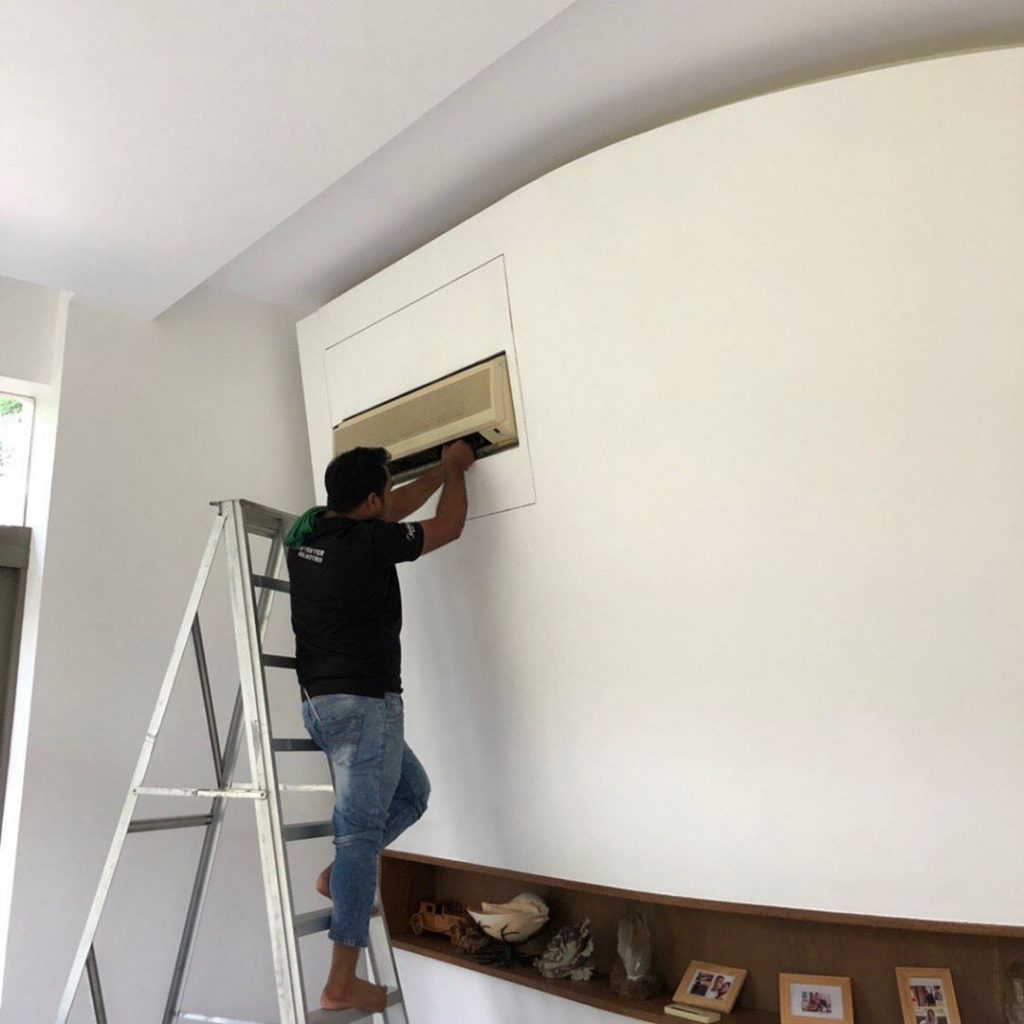 Servicing @ Bukit Timah

Previously we were at Bukit Timah conducting our regular general servicing activities. In this bungalow, there are over 10 aircon units. During general servicing, we will inspect and clean the aircon (filter, blower wheel, cooling coil, water tray, etc.) and advise if there is anything to take note of, such as identifying symptoms that could lead to a potential defect. Ensuring that your aircon is in good health to keep you cool and breathing healthy air! 😊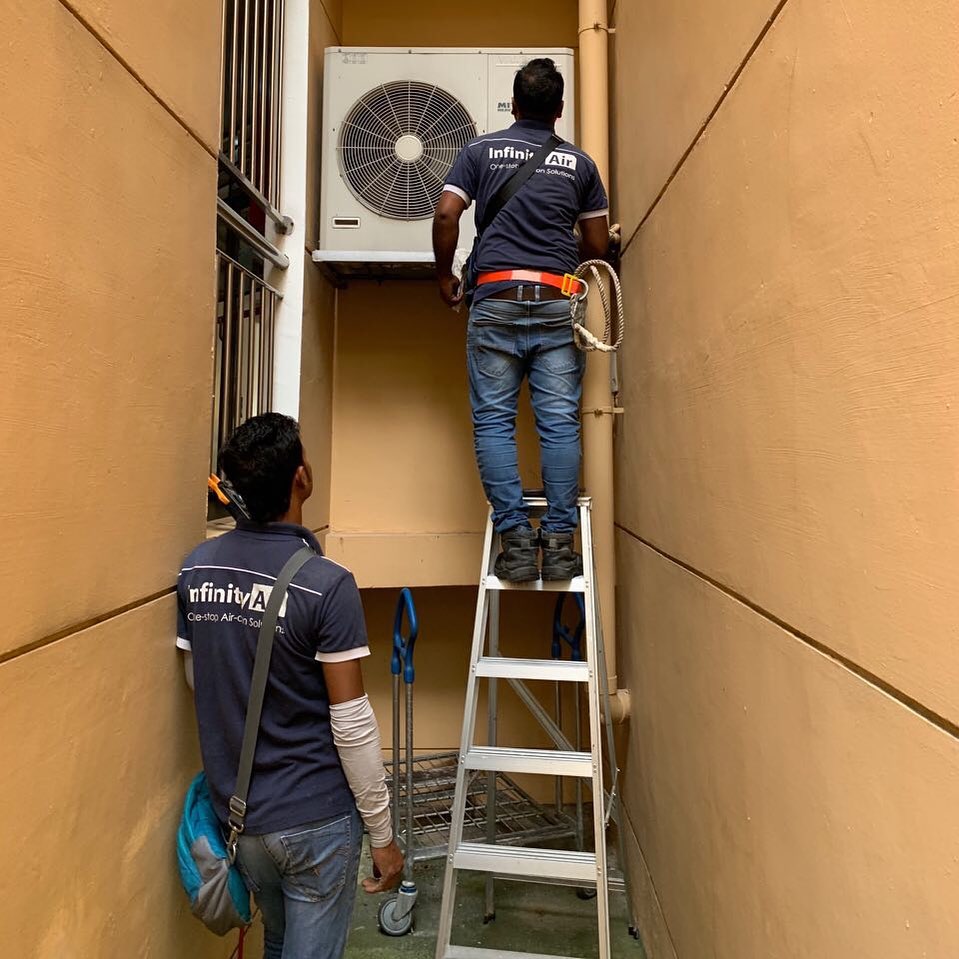 Aircon Servicing @ NUS


We go to doctors for a checkup regularly to detect early symptoms and take preventive measures. Similarly for aircons, they need to go through regular detailed health check analysis to assess their functioning status before making any decision to repair or replace the units. In the photo at NUS, you can see our team being hard at work inspecting the units to provide a status report on the aircon's operating health. This is to ensure continued smooth operations and helps to minimize the risk of breakdowns. Ultimately, having a regular servicing check saves them money and hassle in the long-run..
Why choose Infinity Air for your Aircon Servicing?
Looking for an affordable aircon servicing in Singapore? Choosing the right aircon contractor with the relevant experience and technical knowledge on how aircon systems function is essential for a good aircon servicing job. Here at Infinity Air, as a reputable and reliable aircon servicing company, we have almost 20 years of aircon servicing experience with excellent track record to perform steam cleaning and chemical overhaul at an expert level. Furthermore, all our technicians are in-housed and well-trained, and we will never sub out a job externally for aircon servicing. Our aircon cleaning and inspection processes have been refined over the years to cover a wide scope to give our customers a peace of mind when they choose Infinity Air – regardless of home aircon servicing or commercial aircon servicing tasks. This is how we maintain a reliable and strong track record for our aircon servicing customers in Singapore, who regularly return to us.
Aircon Servicing Packages (Prices) in Singapore
Often, people look at the aircon servicing price as an indicator of the service value they will receive.  Here at Infinity Air, we understand that most people want both quality and affordable aircon servicing in Singapore. Therefore, our aircon servicing price has been curated to provide you the best value at an affordable price. For general aircon/ ac servicing that includes general cleaning and inspection of your unit, the aircon servicing price table is shown below. The value of each aircon servicing improves as you go along the bigger packages. However, if you are still sitting between the fence, deciding if you really need aircon servicing, then what you can do is try out the ad hoc version of general aircon servicing and experience the difference aircon servicing makes.
General Servicing Price List (Wall Mounted Units)
If you have secured a general aircon servicing package with us above, we will gladly provide additional services such as condenser (outdoor unit) servicing and the aircon steam cleaning at a better rate for you. If you choose for an adhoc aircon servicing for your condenser or adhoc steam cleaning, we are flexible enough to provide those options as well. The aircon servicing price table for condenser aircon servicing and aircon steam cleaning can be found below:
Condenser Servicing & Steam Cleaning Price List
Lastly, if you need an aircon chemical overhaul for a thorough cleaning job that dislodges dirt, grime and bacteria from the delicate nooks and crannies within your system, the aircon servicing price table is down below for you. Depending on the size of your aircon unit, which we measure by BTU, the price varies. As this type of aircon servicing gives you the deepest cleanse, you would not require the other two types of general aircon servicing and aircon steam cleaning.

Chemical Overhaul Price List