Daikin Aircon - Installation, Servicing and Repairs
Daikin aircon servicing requires skilled knowledge and expertise due to the complicated hardware wired within their systems. Being one of the best aircon contractors in Singapore, Infinity Air believes that our technicians have to undergo continuous training to hone their product knowledge, and skills, to keep up with the times in order to proclaim ourselves as the best. Therefore, our expert aircon technicians are well-equipped with the skills and knowledge of Daikin air-conditioners and are very capable to handle different types of Daikin air-conditioners.
Be it a new home aircon installation, or if your Daikin aircon needs servicing or cleaning, we have the precise expertise to conduct a smooth job in a convenient and hassle-free manner for you. For those who owns a Daikin aircon and encounter issues such as aircon leaking, not blowing cold air, or experiencing abnormal noises or gas leaks, do feel free to contact our experts for a consultation to get your issue settled as soon as possible.
Expert in Daikin Aircon Services: Installation, Servicing and Repair
Daikin Air-conditioners are one the most trusted and reputable Japanese aircon brands that have been around for many decades when the brand was found in 1924. Through their 90+ years of award-winning aircon production, they have continued to innovate and develop one of the best and most popular brand of aircon today. Given the strong popularity of such a mainstream aircon brand, Infinity Air is pleased to say that all of our staff have strong knowledge and are specialized in dealing with Daikin air-conditioners for both the older and also newer models out there in the market.
We pride ourselves as the best Daikin Aircon service provider with over 20+ years of experience in the industry having completed over 15,000+ aircon services (aircon installation, aircon servicing, and aircon repair). All our aircon technicians are in-house which assures you of consistent and reliable services since we do not outsource any jobs to 3rd party contractors. If you own a Daikin aircon and need cleaning, repairing or installation services, you have come to the right place. We have a specialized team that conducts Daikin aircon servicing in Singapore. If you have a strange issue or unsure of something, you can also take a picture and Whatsapp us a description and our team will advise you as soon as we can.
Types of Daikin Air-conditioning Models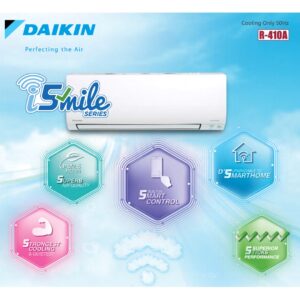 The main type of air-conditioning system used in homes would be the split or multi-split systems. A split aircon system refers to 1 outdoor unit paired with 1 indoor unit, whereas a multi-split system refers to 1 outdoor unit paired with 2 or more indoor units. The latest series of Daikin aircon model at the start of 2022 would be:
–  iSmile Series
–  iSmileEco Series
–  iSmileEco series (Pearl Edition)
One of the best feature of the all the iSmile Series is that they come built-in with smart control that uses Wifi so you can control your aircon with just your mobile phone. This means that you will be able to control your aircon even when you are out of your home and can be very useful by turning on the aircon 15 minutes before you arrive home to enjoy the coolness effect as you step into your house.
Another great feature for all of the iSmile Series is the PM2.5 filter that helps to trap unwanted particles in the air as small as 2.5 microns in size to keep your air fresh and healthy. This is especially useful in Singapore where there is a potential haze situation annually or so. Therefore, the whole iSmile Series is definitely recommended for people who enjoy smart management of their aircon systems as well as health-conscious consumers who wants the best possible fresh air they can have.
Daikin Aircon Repair Services in Singapore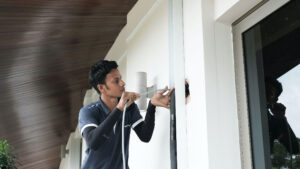 Like all electrical appliances, your Daikin aircon can stop functioning or operate in an unusually inefficient manner one day if routine servicing and inspection is not regularly scheduled. A few examples of a malfunction would be:
Aircon not cold
Aircon blowing hot air
Water leaking
Odd or unusual sounds
Aircon not turning on
Fan is not running
If you encounter any of these symptoms, you should get your aircon checked immediately before the matter gets worse. Normally when a single part is faulty, if you continue to let it run, the faulty part may put burden on the rest of the aircon systems which could escalate into a total breakdown where you may need a replacement instead. Therefore it is important to have a healthy servicing routine to conduct a full clean-up of your aircon every 6 months as well as conduct an inspection to ensure all parts are in good working order. Our professional aircon technicians with over 2 decades of experience can easily tell if a part is potentially faulty by conducting expert troubleshooting techniques to evaluate and diagnose any potential issues that could arise. The most common aircon repair would be to conduct a aircon chemical overhaul, also known as chemical wash, to get rid of the tough grime and dirt stuck in the systems and the aircon becomes as good as new.
Infinity Air - Your Preferred Daikin Aircon Contractor in Singapore

We offer a wide range of services to resolve your Daikin aircon issues and they include:
General Aircon Servicing (standard aircon cleaning): This provides essential cleaning services that involve dismantling the case, cleaning the filters, dusting off dirt, and vacuuming up any residue


Aircon Steam Cleaning: As the name suggests, we use hot steam (100% chemical free) to destroy bacteria and other micro-organisms living in your air-conditioner in hard-to-reach places. This method is also 100% environmentally friendly as it is a water-based process


Chemical overhaul for your aircon systems: If you haven't cleaned your aircon for years, this would be perfect as this cleaning method is our deepest and most thorough cleaning service available. We will dismantle your aircon into parts and use deep cleaning chemicals to rid of mold or any other difficult stains to bring the internal cleanliness of your aircon system to as good as new.


Aircon Whitening: If you think your aircon's external casing has turned yellow, or you just wish to whiten and create a better aesthetic look for your Daikin aircon, we can provide this service on an adhoc basis – go ahead and ask us about it!


Regular servicing contracts: By having a regular schedule for aircon maintenance and cleaning, your aircon will be in tiptop condition all year round. Excellent performance would mean that your aircon will cool your room easily and stay energy efficient, which helps in your electrical bills as well. You can minimize the risk of breakdowns and failures as maintenance checks are included during these regular servicing contracts.


Daikin Aircon Repairs: Normally we would ask you to describe the issue beforehand so we can get our technicians well prepared and equipped before coming down to your place for an inspectation. The best scenario would be that we can resolve the issue on the spot with our Daikin aircon experts taking to the root cause of any problems and performing the repairs accordingly. If things are more complicated, we would advise you accordingly and ultimately let you make the informed decision if a 2nd trip is required or if a replacement makes more economical sense.
Ultimately, we love to give our customers peace of mind and ensure that our technicians provide the best service possible.
Scope of Daikin Air-Conditioner Servicing / Cleaning
We have 3 types Daikin Aircon cleaning services available: General Servicing, Steam Cleaning and Chemical Overhaul. Below provides you the information for each type of Daikin cleaning scope with details. In short, General Servicing for your Daikin aircon refers to basic type of cleaning and maintenance. Steam cleaning is 100% water-based and keeps your system clean, killing 99.9% of bacteria while being environmentally friendly. Lastly, Chemical Overhaul would be highly recommended for your Daikin aircon system if you have not serviced or clean your aircon for at least a year.
General Servicing
Condenser Servicing & Steam Cleaning
Chemical Overhaul
General Servicing
 Checking and cleaning of filter
 Checking and cleaning of blower wheel and cooling coil
 Clearing of fan coil drainage piping
 Cleaning of fan coil water tray
 Checking of compressor pressure level
 Cleaning of fan coil external cover
 Test run of air conditioning system for proper working condition
 To make a detailed routine inspection as per Service Report of the Air-conditioning System
 To advise the client of any defects or potential issues in the Air-conditioning

*Scope of job for general servicing may vary across different brands of aircon as access to certain parts may be limited
General Servicing Price List (Wall Mounted Units)
Condenser Servicing & Steam Cleaning
Chemical Overhaul
Book a servicing appointment with us and save yourself the trouble of major repairs or replacements
Frequently Asked Questions (FAQs) about Daikin Air-Conditioners
Is Daikin a good air conditioner brand?
Daikin aircon brand is a great choice if what you are looking for is reliability, quality, and affordability. Although the Daikin brand have great energy-efficient models, the only drawback is that their aircon cooling systems do not have the latest features or technologies that other brands are offering.
How much does a Daikin air conditioner cost?
Depending on the system type and model of the Daikin aircon, the cost may vary. When factoring for costs, you may wish to factor in long-term costs (energy efficiency factor) of the aircon model as well. You may visit our installation page here and contact us for a quotation too:
https://infinityair.com.sg/aircon-installation-service-singapore/
How long do Daikin air conditioners last?
Generally speaking, Daikin is reliable brand that can serve you for over 15 years if maintained properly. They are well reputable for their long-lasting aircon, so if an aircon's lifespan is a major plus point for you, Daikin would make a good choice.
Which Daikin Aircon model is the best?
There is no one-size-fits-all type of Daikin aircon model for everyone. It really depends on what is your requirements, e.g. room size and frequency of usage to find which model is suitable for you. You will also have to factor in its energy efficiency (more energy efficient ones usually have higher initial cost), the location of the aircon in your area and also what are the special features you want.
Are Daikin air conditioners quiet?
Our favourite part about Daikin aircon is that they are designed to be quiet. There are certain models that also include a mode called "Night Quiet" if you are especially sensitive to sounds. You will definitely have a good night's rest with Daikin in your home.