It is almost time to say goodbye to the Year of the Tiger (2022), and usher in the Year of the Rabbit from 22nd January, the start of Chinese New Year 2023. On most Zodiac cycles, the lunar new year usually falls in February. However, for 2023, the cycle starts earlier in Jan and therefore, preparations must be made in advanced. In this article, we will explain the traditions of cleaning and preparing your place to be ready to usher in the lunar new year, as well as showcase what you can do for your air-conditioners to get them cleaned before 22nd Jan!
Chinese New Year Traditions – Cleaning/Sweeping Bad Luck

Cleaning the entire house (including your air-conditioners) is a yearly traditional before the lunar new year to see the "old year" out and welcome the luck and prosperity of the new year.
The word "dust" in Chinese is Chen (尘), a homophone for old, and by giving your place a thorough cleaning, this symbolizes sweeping away any misfortune or traces of bad luck from 2022 and getting the home ready to receive all the good luck from the Year of the Rabbit 2023.
Do note that the cleaning tradition must be conducted BEFORE Chinese New Year (22nd January 2023), so do plan, and allocate your time wisely, especially if you are getting contractors or helpers where they could possibly be quite fully booked as well.

How to conduct basic cleaning of your air-conditioner
If you have just 20 minutes, you can do some simple cleaning for your own air-conditioner:
https://infinityair.com.sg/easy-20-minute-diy-aircon-cleaning/
The basic cleaning only covers the air filters, drainpipes and the outer cover of the air-conditioning unit. The parts are easy to remove with the instructions relatively straightforward.
However, if you are looking to clean beyond the basics of the aircon as well, such as the blower unit (where most of the dust usually gathers), then you may need to contact a professional to do it for you. For any layman to learn how to dismantle, clean with proper equipment (e.g. brush, vacuum, sprays), and to put the aircon back together as well, it may take several hours. Whereas a professional can get things done efficiently within 30 minutes or so.
Chinese New Year 2023 – Aircon Cleaning Packages (Edit: CNY 2023 is Over, PROMO IS OVER – wait for our CNY2024 promo instead)

If you haven't been servicing your aircon regularly, or if your air-conditioner has not been cleaned or used in the past 6 months, then it is recommended that you engage a professional to do everything for you.

For Infinity Air's professional Chinese New Year Aircon cleaning packages, the details are as follows:

Chemical Wash is the most thorough aircon cleaning service that we offer. What we will do is professionally strip and dismantle your air-conditioning unit to the core: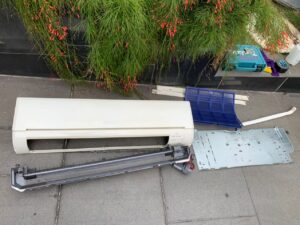 Subsequently, all allowable components are then coated with a chemical solution to give it a deep cleanse and remove 99.9% of dirt, bacteria and grime that is otherwise difficult to clean. Essentially, this process gives you a fresh good-as-new air-conditioning unit once completed.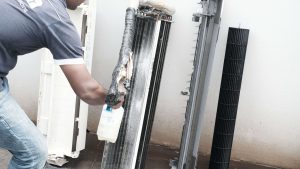 Chemical wash can also help to get rid of unwanted odors, resolve "aircon not cold" issues and can help to quieten down your aircon process (if it was noisy due to a clogged system).
If you would like to learn more about the processes and benefits of Chemical Wash, you can visit our article here: https://infinityair.com.sg/does-your-aircon-need-a-chemical-overhaul/
The charges for such a thorough cleaning process is usually $150 for each air-conditioning unit. However, with our current Lunar New Year 2023 Package Deal, the Aircon Chemical Wash would be:
1 Unit $128.00

2 Units $236.00 ($118/unit)

3 Units $324.00 ($108/unit)

The best part is that our prices are NETT! Full transparency on our pricing is one of our core values that gives our customers assurance and a peace of mind.
If you would like to book or enquire about our CNY Package, please do call in our office hotline at 6285 6756 or Whatsapp us at 9383 6574. Let us know you are interested in the CNY Package and we will provide you more details or make booking arrangements with you accordingly. Do make your bookings in advanced as our appointment slots are running out FAST!