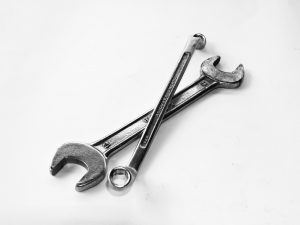 Air conditioners play an important role in our everyday lives, keeping us cool and dry.
However, as with all electrical appliances, your aircon requires maintenance
work to keep it circulating clean and cool air for the length of its lifespan.
Typically, aircons can last between 8 to 12 years, sometimes even more depending on
how well maintained they are. Aircon maintenance is also referred to as aircon servicing. This article will cover aircon services ranging from routine
inspection, general cleaning, to deep cleansing of the aircon's internal
system.
Types of Maintenance you would generally come across 
1) General Servicing
General aircon servicing refers to the basic/default/normal type of servicing when you visit aircon websites, where it is usually the most affordable option amongst the 3 types of aircon servicing. Usually what it includes is a basic inspection and cleaning of the aircon components to make sure they are working properly. 

For example, at Infinity Air, the inspection checklist for general servicing includes the following: 

–          Checking and cleaning of filter
–          Checking and cleaning of blower wheel and cooling coil
–          Clearing of fan coil drainage piping
–          Cleaning of fan coil water tray
–          Checking of compressor pressure level
–          Cleaning of fan coil external cover
–          Test run of air conditioning system to ensure proper working condition
–          Detailed routine inspection as per Service Report of the Air-conditioning System
–          Advising the client of any defects or potential issues in the air-conditioner
2) Steam Cleaning
Aircon steam cleaning is an advanced technique that uses jets of high-pressured steam to expel dirt in clogged areas, steaming hard-to-reach crevices and sterilizes surfaces. Given its environmentally friendly nature, many of the environmentally conscious prioritize steam cleaning over other chemical methods. 

In summary, the benefits of steam cleaning are as follows:
–          Environmentally friendly
–          Chemical-free cleaning
–          Kills 99.9% of bacteria
–          Better indoor air quality
–          Dries quickly
3) Chemical Overhaul
Chemical overhaul involves the dismantling of your aircon parts and administering a chemical solution specially formulated to dislodge dirt, grime, bacteria, and molds from all corners within your system that would otherwise be trapped. Chemical overhaul is also the most comprehensive type of aircon servicing Infinity Air provides. This type of maintenance service is especially good for air conditioners that have not been cleaned for a long time, more than 1 year for example. It is also extremely effective in getting rid of unwanted dirt deeply embedded inside your aircon systems. It can help with noisy aircons if the abnormal sounds are generated from a clogged system. 

Chemical overhaul at Infinity Air covers the following:
–          Dismantling of entire FCU from the wall
–          Dismantling of electronic control and drainage device
–          Chemical overhaul of FCU and parts
–          Servicing/ Vacuuming of drainage system
–          Charging of refrigerant (limited to 10 PSI per system)
–          Checking of controls and thermostats
–          Commissioning and test run of system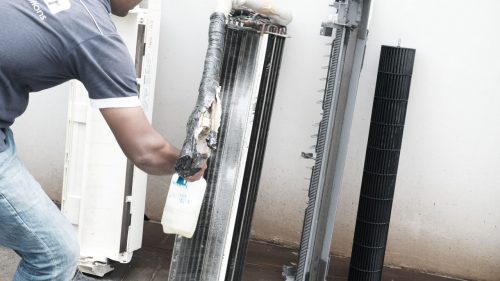 Benefits of Aircon Servicing
Why would someone pay for aircon servicing? This is a common question by many new aircon owners. However, if you ask experienced aircon owners or understand the long-term benefits of aircon servicing, you will realize that the preventive measures through regular aircon servicing are cheaper than the hefty cost of repairs/replacements. When your aircon gets faulty, repairs or even replacements, can be very costly. Whereas regular aircon servicing only takes up a fraction of the cost for preventive maintenance, where an early detection of potential aircon problems can lead to significant cost savings in the long run.

There are also many other benefits of aircon servicing such as:
–          Maintain and improve energy efficiency
–          Lowers the overall cost of aircon repair
–          Longer operational lifespan
–          Improved air quality
–          Lower electrical bills
How much aircon maintenance is enough for me?
This really depends on how often you want to do your own DIY cleaning or if you rather just leave it all up to the aircon professionals. A general rule of thumb is: if you do your own simple aircon cleaning and checks, you should get the professionals down twice a year for general aircon servicing. Alternatively, you can schedule annually for a chemical overhaul which gives your aircon a proper once-a-year deep cleanse. Choosing either type of schedule will help prolong your aircon's lifespan and enable your aircon to generate consistent good quality air. Another factor to consider would be the usage of the aircon – the more you use, the more frequent you should service it. The above examples of general servicing twice a year (with DIY cleaning) is for aircon usage between 8 – 12 hours a day. Any more than 12 hours a day, you should probably engage an aircon professional for general servicing quarterly (4 times a year), as frequent aircon usage tends to wear down the systems faster.
What to look for when looking for an aircon servicing vendor?
It is crucial to pick the right aircon service provider to ensure that proper aircon servicing is conducted to give you a peace of mind even after the job is completed. There are many small companies and freelancers out there advertising "free checking services" or absurdly low prices to entice your attention. Subsequently, they may try to upsell more products or services that may not be required. As customers are usually not aircon experts, they might not be aware of these issues. Therefore, it is important to find a reputable aircon service provider that you can trust to look after your air-conditioners.

Firstly, you can check if they are a BCA registered via the BCA Directory where registered Air-con professional companies are regulated by the Building and Construction Authority (BCA) of Singapore. Next, you should look at the reviews from various sources or ask around if you have heard of the company before. For example at Infinity Air, you can view our Facebook Reviews or even our Google Listing Reviews. Lastly, you should contact them and let them know of your aircon issue and ask about the services and prices, etc. This will give you a rough indicator of how transparent and responsive the company is before you make your final decision.