What is Variable refrigerant flow (VRF/VRV)/ Variable refrigerant volume (VRV)? You might have come across this term when
talking to Air-con professionals. If you have never heard of either term before, just know that they are basically 2 different names for the same thing. VRV is a form of Heating, Ventilation, and Air-conditioning (HVAC) technology that originated from Daikin Industries as early as the 1980s. As Daikin had created a trademark for the term VRV, other HVAC manufacturers that created the same system had to remarket it using a different term – VRF/VRV.  In this article, we will be sharing more about VRV/VRF systems and how it works for your home.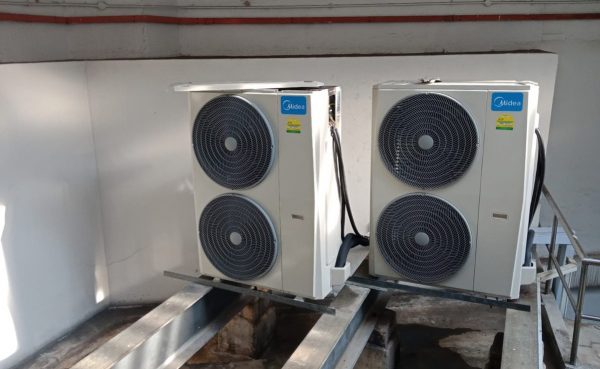 How does the VRF/VRV HVAC system works?
The VRF/VRV system is an air-conditioning system that is sophisticated and can be difficult to understand. Putting it simply, it is a centralized and automated control system that manages the temperature in multiple rooms/locations. With the picture below as an example, each room has its own desired temperature settings. What the VRF/VRV system will do is to regulate the refrigerant flow (refrigerant is the compound that absorbs heat) to each room and regulate each individual room's temperature accordingly.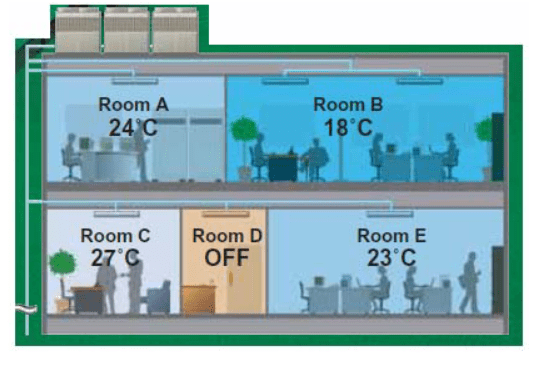 With the VRF/VRV system, end-users can set various temperatures using the local remotes in each room and set their own desired temperature settings (e.g. 20 degrees) even though each indoor unit shares the same piping system, thus helping to save more space in the process. The VRF/VRV system is very efficient in allocating the exact amount of refrigerant to regulate the indoor temperatures accordingly.
When or why should you choose a VRF/VRV system over the normal wall-mounted aircons?
There are several good reasons for you to choose a VRF/VRV system over the typical wall-mounted air-conditioners. Here are the scenarios where a VRF/VRV system would be really advantageous for your home:
You have a large home, more than 4 aircons: Wall-mounted split systems are mostly sold up to System 4 – means 1 outdoor condenser unit connecting to 4 wall-mounted indoor aircon units. If you are looking to install more than 4, you will have to either get multiple wall-mounted split systems, or you could just choose 1 VRF/VRV system which can be connected to 64 indoor units for 1 outdoor VRF/VRV system.
Long piping required: VRF/VRV systems are flexible when it comes to piping length – they will still work properly regardless of piping length required. Wall-mounted aircon systems are usually good up to 20m length in piping between the outdoor and indoor aircon units. Any longer, you might experience complications and a drop in aircon performance. This makes VRF/VRV systems a perfect choice if you intend to 'hide' the condensers at the back of your home or rooftop with some greenery.
Choice of centralized and local control: With a VRF/VRV system, you can choose to control all the aircons under your watch and customize each aircon's temperature settings, etc. in a central location. You can also choose to have each aircon to be locally controlled by a remote – e.g. 1 remote for each aircon room. VRF/VRV system gives you a choice to take control, or to give control. Whereas wall-mounted aircon systems can only be controlled locally without the option for a centralized control.
Consistent temperature and comfort: One of VRF/VRV's strong advantage is its ability to read the room and react by varying refrigerant accordingly to keep temperature fluctuations to a minimal. For example, when a location starts to gather a crowd of people, there will be more load required to maintain the same desired temperature and the VRF/VRV system would be able to detect that and regulate more refrigerant through that location's aircon.
Design flexibility: Say you want a cassette aircon in one room, a ducted indoor aircon unit in another, and another type of aircon in the third room. All 3 different types of aircon units can be connected to the outdoor VRF/VRV system and operate perfectly well. Unlike the wall-mounted split system aircon where the choice of aircon designs installed is very limited.
Aesthetics: With a VRF/VRV system, a single outdoor unit will be able to power more air-cons than a typical multi-split system. It means you will not require a lot of space for the outdoor unit placement and also have the flexibility to keep it out of the general view of your estate/residence due to its capabilities to support a longer piping distance.
Why choose Infinity Air for your VRF/VRV System?
After reading through the advantages of the VRF/VRV systems and you believe that this system is right for you – this is where we can come in and help. What you can do is consult our team here at Infinity Air Contact Us where we have over 20+ years of experience with VRF/VRV systems and can advise you accordingly based on your location and surrounding environmental factors. One of our core values is transparency and reliability, plus our experienced aircon professional teams are all in-house.
Furthermore, we are a BCA-registered contractor that adheres to local regulation and guidelines to give you a peace of mind for all installation works.
Want to know more about other aircon installation works that we do? Visit our Aircon Installation page where you can find out more about other types of installation, such as wall-mounted split systems or even ceiling cassette split systems.