The first iteration of the modern air-conditioner you see today was invented in
1902. Since then, many billions of people have enjoyed comfortable cool air
for the past century. As time passed and technologies improve, newer aircon
models are created to improve performance and energy efficiency. To date, not
only has aircon technology improved creating a lot more functions, maintenance technology and equipment have improved as well. Today there
are science-backed cleaning methods as well as specialized equipment and products,
designed purposefully for optimal aircon maintenance. We will discuss the current methods of aircon cleaning/servicing, and
the level of standards from the scope of such cleaning processes. 
3 Types of Modern Aircon Services for Cleaning
There are 3 main types of aircon services, and depending on your aircon's situation, you may choose one type of service over the other. To make it simpler for a layman to understand, let us categorise these services in 3 levels, 1 being the simpler cleaning service and 3 being the most comprehensive cleaning service. 
Level 1: General Aircon Servicing/Cleaning
General aircon servicing is the basic routine check-up and cleaning conducted for your aircon systems every 3 to 6 months, the interval depends on how frequent your aircon usage is. The breakdown of our general aircon servicing scope is as follows:
–          Checking and cleaning of filter
–          Checking and cleaning of blower wheel and cooling coil
–          Clearing of fan coil drainage piping
–          Cleaning of fan coil water tray
–          Checking of compressor pressure level
–          Cleaning of fan coil external cover
–          Test run of air conditioning system to ensure proper working condition
–          To make a detailed routine inspection as per service report
–          To detect any defects or potential issues in the air-conditioning system
Despite its simplicity, conducting general servicing regularly can help detect early signs of problems and help maintain your aircon's performance at optimal efficiency.
Level 2: Aircon Steam Cleaning
For those who are more environmentally conscious, we offer a 100% water-based, no chemicals involved, aircon steam cleaning service that uses hot steam to kill 99.9% of the germs or harmful bacteria. This method is especially a popular choice when there are difficult corners of the air-conditioner to clean. As steam cleaning reaches out to every part of the aircon, our customers can have a peace of mind knowing all bases are covered.
Level 3: Aircon Chemical Overhaul/Wash
Chemical overhaul is the most comprehensive and deepest cleaning service that we provide. Firstly, we would dismantle the entire air-conditioning system from the wall down to individual parts and use deep cleaning chemicals to rid of any dirt, grime or difficult to remove stains. Here is a breakdown of our aircon chemical overhaul scope:
–          Dismantling of entire FCU from the wall
–          Dismantling of electronic control and drainage device
–          Chemical overhaul of FCU and parts
–          Servicing/ Vacuuming of drainage system
–          Charging of refrigerant (limited to 10 PSI per system)
–          Checking of controls and thermostats
–          Commissioning and test run of air-conditioning system
Normally, we would recommend clients who haven't cleaned their aircon in a year or more to choose chemical overhaul, so we can rid the system of build-up of dirt and germs to make it as good as new again. There are also instances where people who haven't cleaned their air-conditioners in a few years and have complaints like 'ah aircon not cold!' or 'Oh no my aircon leaking!'. After performing a chemical overhaul on their systems, their aircon works again as if it's new, cooling the room in record time.  More efficient cooling is also achieved by using less electricity, which means cheaper electricity bills.
Conventional Cleaning (used in all 3 aircon services) featuring AerisGUARD Multi-Enzyme HVAC Coil Cleaner

Asides from the commonly used products and equipment in all 3 levels of aircon cleaning, there is an additional special product we use, called AerisGUARD – Multi-Enzyme HVAC Coil Cleaner. Before we understand how this coil cleaner is so special, we must first explain the purpose of the coil in your air-conditioner.
Known as the evaporator coil in your air-conditioning system, the coil is the component that absorbs the heat from the air inside your home. If you have ever opened your aircon and touched what looks like a metallic slab and that it feels very cold to the touch, that is your evaporator coil. The main role for your aircon coil is to cool the refrigerant and absorb heat, playing a very crucial role in the operations of your air-conditioner.
As the evaporator coil serves a very specific purpose, it can be sensitive to many different chemicals, especially at both extreme ends of the pH level. It is recommended that coil cleaning solutions should be as close to pH neutral as possible. Therefore, this AerisGUARD HVAC coil cleaner was specifically designed for optimal efficiency in cleaning the evaporator coil, below are some of its key features.
Features of AerisGUARD Multi-Enzyme HVAC Coil Cleaner
–          Non-acid, non-alkaline cleaning process (very close to pH neutral)
–          Specifically formulated to attack and remove inanimate organic debris found on evaporative coils
–          Completely biodegradable and washes down the drain safely, therefore environmentally friendly
–          Reduces the need for pressure washing
–          Odor-free, unlike many other chemical solutions where there will be a lingering smell
–          Available in 20:1 concentrate, so you can mix 5ml of solution with 100ml of water, to use as a spray
Benefits of AerisGUARD Multi-Enzyme HVAC Coil Cleaner
–          Helps improve indoor air quality with a clean evaporator coil
–          Cleaning process can be used on HVAC coils
–          Saves time with no detailed preparation required
–          Easy to use and safe in all working environments
–          Will not damage or corrode heat exchanger coils material
–          No need for high pressure washing in most instances, as the coil cleaner can work it magic by just spraying
–          Easy and safe to transport around or keep for storage
The AerisGUARD 2-Step Process: Cleaning and Treatment (Protection)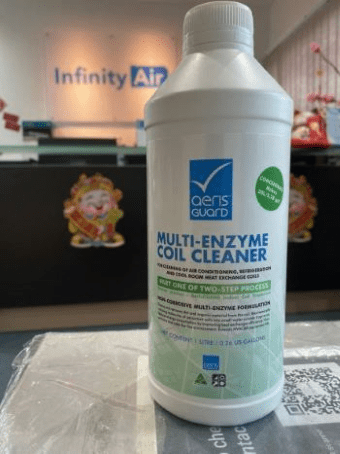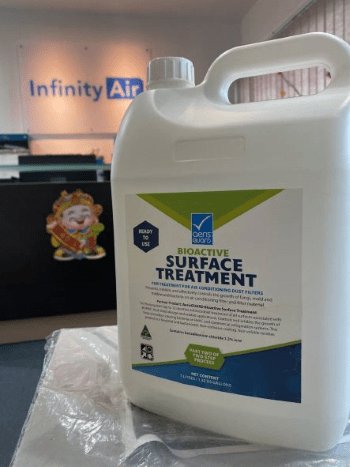 Keeping it simple, there are 2 main steps to follow when using the AerisGUARD products. Firstly, we will spray the coil cleaner on the evaporator coil and leave it to work its magic for 15-20 minutes before washing it off. Following that cleaning process at the end, we will utilize AerisGUARD Bioactive Surface Treatment to prevent and inhibit the growth of fungi, mold, and bacteria in your air-conditioning systems – and this protection can last up to 12 months. For a more comprehensive and detailed description on how the AerisGUARD Coil Cleaner is supposed to be used, you can visit the instructions page.
From 2022 onwards, all our aircon cleaning services from Infinity Air will be implementing these procedures with these innovative cleaning products to ensure our cleaning methods keep to international standards. We believe that by providing the best aircon cleaning service available, you will be able to see long-term results and feel the difference that no other provider can give. If you wish to make a purchase of any AerisGUARD products, you can also contact us and we will see to your enquiry as soon as we can.