We have come a long way since the early 2000s. Back then, technology and information were not as accessible as today. The transfer of knowledge had to be done through direct people to people communication where experienced and knowledgeable technicians would pass on what they knew to those eager to learn. Our hunger for progress and efficiency pushed us to assimilate as much as we could, applying the technical knowledge we had learnt to practical situations. Fast forward almost 20 years later, in 2020, Infinity Air has become a reputable brand in the industry, completing over 10,000 heating, ventilation, and air-conditioning (HVAC) jobs, with a staff strength of over 25 employees, having multiple teams deployed across Singapore for aircon installations, servicing and repairs/troubleshooting.
We pride ourselves in serving residential and commercial clients with all their air-con requirements. From the initial site inspection, designing of the installation, to the actual aircon installation, servicing, and repairs. We understand that many customers would find it a hassle to have more than one aircon contractor and therefore, we made it a point to offer a holistic set of services, keeping everything under one roof. Our aim is to simplify the process, just one phone call to us and we should be able to provide you the next course of action and bring you a step closer to fresh cool air.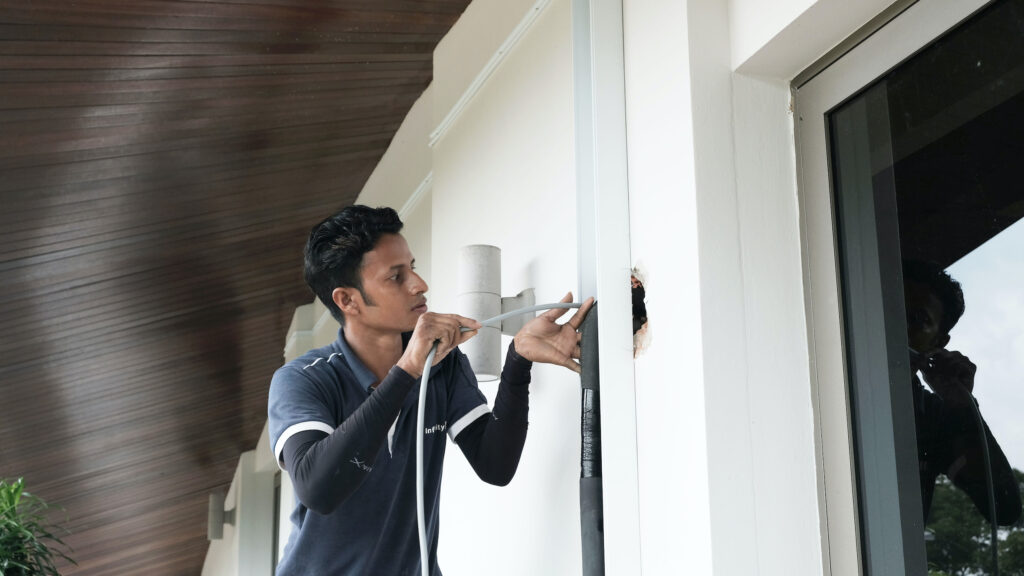 If you wish to view some of our more recent projects, you may visit our Instagram page here or simply search @infinityairsg 
Why Choose Us?
Choosing the right aircon contractor with the relevant experience and technical knowledge on how the aircon equipment works is essential for a good install job. A good installation takes into account ease of access for future maintenance work, proper aircon model for most efficient cooling depending on room size and of course, aesthetics. A bad installation job can cause a multitude of headaches down the road. Choose a trusted aircon contractor who is ethical and reputable to provide for all your aircon needs. 
Have a look at what our customers are saying about us:



One of the main reasons why our regulars keep returning is because of our service quality standards. Our core values revolve around professionalism and customer satisfaction, where we heavily emphasize on training and development to ensure the delivery of consistent service standards. To achieve consistency in our service, we conduct every aspect of the job in-house (as opposed to outsourcing) where we have complete control over the processes, this enables flexibility to better suit both our staff and customers. 

We are confident enough in our services that we would provide an additional stamp of assurance by offering a 30-day warranty from the date of completion on all the works that we undertake. We are also especially proud of having been able to serve some notable clients in Singapore as follows:
We understand the need to do our part to protect the environment. Air-conditioning and its maintenance are definitely not the greenest, but we do provide a greener solution to a deeper cleanse for your aircon units. With steam cleaning, we apply water, heat, and pressure to your aircon for a deep cleanse and sanitization with zero harmful chemicals. If you are keen to learn more, you can read all about it over here.
To find out more on our services, you may visit our following links:
–          Aircon Repairs/Troubleshooting
–          Read up on the common FAQs
–          Our Blog

Or just Contact Us directly and we'll be happy to help.