Best Aircon Installation Contractor in Singapore
We provide excellent aircon installation services for both residential homes and commercial areas at a competitive rate. With our vast experience of over 20+ years in the aircon industry, we can recommend the appropriate system for your needs. Having worked with various air-conditioning brands, we are able to properly advise our clients on the suitable brands and models for your new aircon installation or replacement. Prior to any aircon installation in Singapore, we will provide make a proposal based on the following factors; size and location of your room, the model of air conditioner available, and the technical proficiency/difficulty for the aircon installation.
Another commonly asked question is, what is the best aircon model to choose? Not all the latest aircon brands on the shelf may be the best fit. Several factors must be considered here as well: e.g. frequency of usage, energy efficiency, budget/costing and more. Fortunately, you are not alone. Let our team of aircon experts assess this for you and help you to come up with a suitable option. After all, we pride ourselves as the best aircon contractor in Singapore where quality aircon service is consistent, reliable and transparent.
As seen below, we are experienced in all major brands for aircon installation such as Daikin, Mitsubishi Electric, Midea, Samsung, Panasonic, etc. and more!
Service all major Aircon brands in Singapore
Download an aircon brochure from our complete range of air conditioning systems. Be it single split, or multi-split such as system 2, system 3, system 4, system 5. These brochures contain the major brands and more commonly available aircon models in Singapore. The list is not exhaustive and if there is a specific aircon type or model you are looking for that is not found here, you can simply submit an enquiry to us. For more enquiries such as our price and available time slot, feel free to contact us at 6285 6756 or whatsapp us at 9383 6574.
If you are unsure of what type of aircon you need, you can contact us too and we will advise accordingly. You can also read up on our article on the latest brands of aircon in 2022
If the brand of your aircon is not shown above,
feel free to contact us or book an installation appointment today!
Types of Aircon Installation
Wall-Mounted Split System
Ceiling cassette split systems
Centralized Aircon/VRV/VRF
Wall-Mounted Split System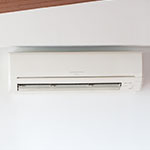 This is the most commonly used aircon system in Singapore households. It system usually consists of a combination of a few indoor units paired with an outdoor unit that is placed on a bracket or designated ledge. If you have any special arrangements required,
reach out to us
before installation begins so we can take them into account and make sure your installation goes as smoothly as possible.
Ceiling cassette split systems
Centralized Aircon/VRV/VRF
Curious about our rates? Check out our price list below!
| NO. AIRCON UNITS | Per Visit | 2x Per Year | 3x Per Year | 4x Per Year | 6x Per Year |
| --- | --- | --- | --- | --- | --- |
| 1 | $50 | $90 | $130 | $160 | $230 |
| 2 | $75 | $135 | $180 | $240 | $360 |
| 3 | $100 | $170 | $250 | $320 | $470 |
| 4 | $130 | $220 | $320 | $400 | $600 |
| 5 | $160 | $240 | $400 | $520 | $750 |